Would you like to have a free book? Please help me with launching my writing. You may enter the drawing in one of three ways.
1. Like my Facebook page devoted to writing. Sandee Lee Writes
2. Follow me on Twitter. @SandeeLeeWrites
3. Comment on one of my blogs (even a very brief comment). sandeelee.com
Hey, just go for it and do all three. It will triple your chances. The deadline is 6 PM on January 1, 2014. Your name will be entered in a drawing for each category you completed. Watch for the winners and how to claim your prize in my posts on January 2. I will be giving away nine copies of The Practice of the Presence of God. It is a delightful book about how living your Christian faith daily can impact those you encounter.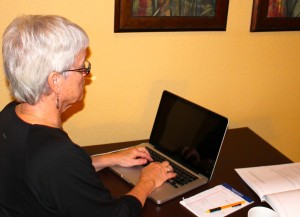 I have resisted God's calling for me to devote time to writing, but God seems to be more persistent than me. The past three months have been spent updating my technology skills and procrastinating—with heavy emphasis on the latter. But no more. The new year is here. It is time to pursue this new chapter God has laid before me.