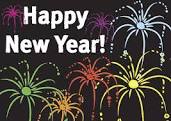 Sometimes I loathe the idea of ringing in the New Year because of the focus on self-improvement resolutions. It means I have to think about my life–what is good, what is bad, and what do I want to accomplish. It is so much easier to just accept the status quo. Nevertheless, this year I am going to try something new. And I am inviting you to join me in the challenge.
It is pretty easy to keep a resolution for a week—although I must admit that I have been known to break a resolution in the first few hours. My research said the reason most people do not keep their resolutions is because they try to do too much too fast. I am guilty. I generally have four or five resolutions. No one can make that many lifestyle changes at once. I need a different approach.
This year I am going to make a resolution for a day–not for a whole year or forever. Each day I will make a new resolution that must only be kept for one day.
THE CHALLENGE: I invite you to join me in keeping a new resolution each day of January. You only have to keep it for one day. Don't worry. All of the resolutions will be legitimate personal improvement ideas.
This is how it works. I will post a new ONE-DAY RESOLUTION on my website by six each morning. That evening I will report how I did in the comment section on the blog. You are invited to comment on how the resolution worked for you.