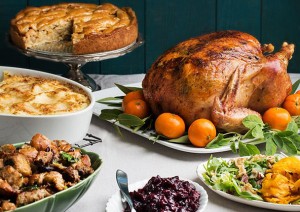 Gaining five pounds from Thanksgiving through January 1–caused by the feasts, parties, family gatherings, and luscious food gifts–is normal. I contend that is why so many of us make New Year's resolutions to loose weight. Let's just admit the fact that it is five weeks of gorging. But it is such fun!
We eat foods that we do not eat any other time of the year because they are so rich. Favorite desserts, main dishes, and snacks are impossible to resist—not just for the first helpings, but also for seconds and thirds. An abundance of scrumptious candies, cookies, and holiday breads exchange hands as gifts.
Feasts are a blessed part of life. God designated festivals for his people. Throughout the Bible, celebrations of various kinds are enjoyed. So holiday events are to be appreciated.
The last five weeks of the year are a wonderful time to visit with family and friends around the table. Relationships are strengthened while munching on hor d'oeuvres and consuming enormous meals. We show our appreciation to the significant people in our lives by preparing special treats for them.
Now it is time to throw the leftovers out. We have been gluttonous long enough. It is time to get back into the swing of healthy eating. Out with the salty, fatty, sugary items left from the holidays.
But the fruit of the Spirit is love, joy, peace, patience, kindness, goodness, faithfulness, gentleness, self-control; against such things there is no law. Galatians 5:22-23
Resolved Day 3: I will remove all leftover holiday foods from my house and resume healthy eating.