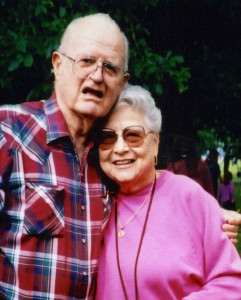 Too often we take our parents for granted. We assume they know we love them. We expect them to understand we are busy and don't have time today. After all, the rationalization goes, we will be together next week, or we can email (or text) later.
How sad! What little effort it takes to affirm a parent.  I could write Mother a note telling her how important she is to me. That would be treasured. A leisurely phone call is always enjoyed by her. How hard would it be for me to thank her for something she did for me recently or even something she did in the distant past that has been meaningful to me over the years?
When was the last time you complimented your parents? Can you remember a time you visited them when the visit was not tied to a holiday, birthday, anniversary, or children's event?
My father, who is living in heaven, has been on my mind much lately. I loved him dearly and wish I had expressed my love for him and appreciation to him more while he was still alive. He adored Mother and taught my brothers and I how a loving couple enjoyed life together. He taught us integrity and to love the Lord. What a legacy!
I challenge you to think about how you can express your love to your living parents today. What small act of appreciation can you do for them?
My mother no longer drives so I see her often to transport her to church and various appointments. I think I will pay a surprise visit to her with no purpose other than to be with her. She'll love that.
Honor your father and your mother, that your days may be long in the land that the Lord your God is giving you.  Exodus 20:12
Resolved Day 4:  I will spend some quality time with my mother.