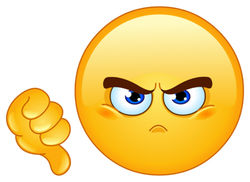 Grumble. Grumble. Gripe. Gripe. Things are not as I want.
The laundry needs done, but I want to watch my favorite TV show. I have to go shopping for groceries, but I want to buy a new outfit. I have to pick up the clutter in the house instead of play a game on the computer. My hair just will not behave. Why doesn't someone pick up that trash by the front door of the church? Who put her in charge? Why does she think she can tell me what to do? I do not like the way she does things. I have better ideas.
What is your favorite gripe? What sets you off? Have you ever reflected about what makes you grumble?
Pettiness and selfishness are the main reasons for griping. Someone is expecting me to do something I do not want to do, another is leaving work for me to do that they should have done, my hopes are dashed by reality, or I am not getting to indulge my desires. Who said the world revolved around me? No one.
James 5:9 says to not grumble against our brothers. That means I cannot complain about other Christians. But what about everyone and everything else?
Put on then … compassionate hearts, kindness, humility, meekness, and patience.  Colossians 3:12
It is impossible to be kind, have humility, and be patient while griping.
Resolved Day 6:  I will not gripe or grumble (verbally or in my thoughts) today.