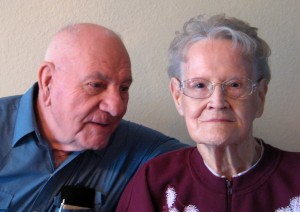 In-law horror stories abound. Some really difficult people dig in and refuse to compromise.  Some are just arrogant. But some lack social or communication skills.
My heart goes out to those who have to endure exasperating in-laws. I can only imagine the stress it places on a marriage. Building a quality relationship with your spouse is challenging enough without in-laws undercutting or complicating issues.
I often joked that the reason I and Mom T. had a good relationship is because I learned early that her son was perfect. You and I know that is not true, but she did not want to hear about any imperfections her son might have. So whenever I was around her, I made sure to say positive things about my husband. It worked. She thought I was the perfect wife for her son.
After being widowed for several years, Mom T. married a widower. They found love, companionship, and enjoyment together. When my mother-in-law passed away a couple of years ago, my husband and I decided we still considered his stepdad as a member of the family. He had made the last twenty years of my mother-in-laws life happy. I think he knows we are grateful. But we probably do not tell him we love him often enough.
How can you let your in-laws know that you appreciate them? I think I will write him a note.
Let us not love in word or talk but in deed and in truth. 1 John 3:18
Resolved Day 9: I will go out of my way to let my father-in-law know that I love and appreciate him.