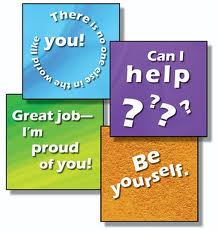 Do you sometimes take your friends for granted? Do you get so caught up in your own activities and problems that you do not recognize the signs of discouragement in your friends? Do you neglect to give out words of encouragement just because you appreciate and value their friendship?
If you answered "yes" to any of the above questions, you are normal. Isn't it sad that at times our self-centeredness makes us callous to the needs of people we hold dear?
The Bible talks about encouraging others. The early Christians understood the importance of encouraging friends especially during trying times. The Jerusalem church wrote a letter of instruction and support. It was hand-delivered by two church leaders to the believers in Antioch.
So when they were sent off, they went down to Antioch, and having gathered the congregation together, they delivered the letter. And when they had read it, they rejoiced because of its encouragement. And Judas and Silas, who were themselves prophets, encouraged and strengthened the brothers with many words. Acts 15:30-32
Encouragement might take the form of a call for the purpose of complimenting a friend. Maybe a surprise request to set a luncheon date could brighten a friend's day. A note of appreciation often is cherished and saved. Even a small, inexpensive, thoughtful gift can be touching. What can you do today for a friend who needs support?
Resolved Day 14:  I will write words of encouragement to a friend today.