What criteria do you use when deciding how you will treat another person? I do not mean how you know you should treat others. But how DO you treat others? What is your automatic response to someone who looks different?
It is wise to notice how a person is dressed and how a person is acting. That is part of protecting yourself from danger. Some types of clothing signal that you should be alert for possible menacing behavior. People displaying erratic actions, loud speech, or posture which shouts a "don't mess with me" attitude are best avoided.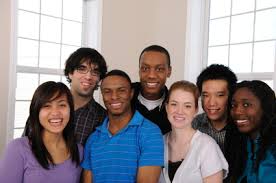 What I am concerned about is how do you treat a person who has a different ethnic background than you, who is of a different race, or who is obviously from a different socio-economic class. It is a natural response to be curious. It is not unusual to be nervous because of unfamiliarity. Sadly I am not always as friendly as I should be because I do not know how to greet an outsider. I do not want to offend so I do not acknowledge that person. Avoidance is a poor choice. A gentle, thoughtful approach is usually effective.
Being socially clumsy is very different from being antagonistic. I do pray that as a Christian you are blind to obvious exterior differences and are more interested in the inner person. God values us as individuals. We should likewise treat others with dignity.
There is neither Jew nor Greek, there is neither slave nor free, there is no male and female, for you are all one in Christ Jesus. Galatians 3:28
Resolved Day 20:  Today I will be kind and thoughtful to all people without consideration for their ethnicity, race, or socio-economic status.