It seems that the more stuff I have, the less time I have to enjoy it. Stuff needs to be cleaned, repaired, organized, and put away. An appropriate storage space must be found—one that is of the right size and easily accessible if the item is used often.
Two years ago when my husband and I were involved in a house remodel project, we decided to get rid of some things. It was either that or add rooms onto the existing house instead of updating and decorating. We gave away usable articles, recycled many things, and hauled an amazing number of items to the dump. Nooks and crannies were cleaned. When we finished, our closets were not overstuffed and the basement storage room had some order. Now, the whole process needs to be done again.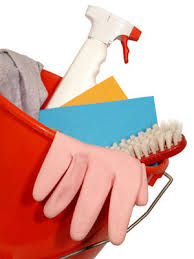 This time I have a plan. Instead of doing a whole-house cleaning and removal of unused items, I will do a closet. Then I will organize a dresser. Next a set of kitchen cupboards will be cleaned. Tackling a small project regularly will not be unduly overwhelming. If most weeks I clean out one small area in my house, it should stay organized.
She looks well to the ways of her household and does not eat the bread of idleness.  Proverbs 31:25
Resolved Day 23:  I will choose one area of my house to clean out and organize. today.