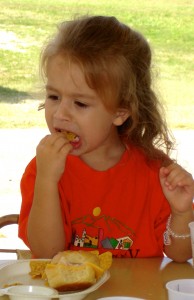 Eating right should not be so hard. Wonderful, healthy, flavorful food is abundant and affordable. But so is the junk food, and the junk food is attractively displayed close to the checkout stand. The television commercials make my mouth water. How can I resist?
We have so many enticing restaurants. Much of the fare is healthy, but many less health-friendly items abound. My choice as an appetizer the last time I ate out with my husband was an example—deep-fried bloomin' onion. My favorite food, ice cream, is in season year around for me.
Eating the less healthy foods is okay once in a while for a special treat. But if eaten too often, I start feeling crumby. I know consuming fried food and most packaged snacks are detrimental to good health.
God gave the Israelites many dietary regulations. Daniel, without the help of modern science knew that it was important to eat healthy.
Let us be given vegetables to eat and water to drink.  Daniel 1:12b
It seems that God wants us to not idolize food. It is to be used to nourish our bodies and to be enjoyed at gatherings.
Their end is destruction; their god is their belly.  Philippians 3:19a
Resolved Day 28:  I will eat a healthy diet today.