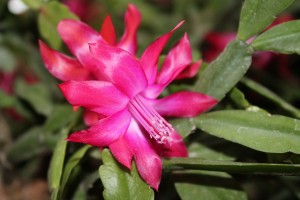 What objects in your life do you love? My first thought was that things are things and not that important to me. Then one exception after another came to mind. So I started a list: a Christmas cactus Grandma gave me over thirty years ago, my mother-in-law's wedding ring set, pictures of my husband at various times, a milk can Mother painted with Kansas symbols, the green glass cookie jar from great-grandma Gray's kitchen. All of the things I listed had sentimental value.
I have heard the question posed, "If a sudden emergency caused you to immediately leave your house forever, what would you quickly grab to take with you?" I find the question impossible to answer. My home is an eclectic collection of memories. Items that remind me of people I love or past fun times. These items make my home cozy, secure.
I have truly surrounded myself with things I love. Not because of their beauty or value but because of their sentiment and the memories.
God understood the importance of visual symbols as reminders of his love.  One example in the Old Testament is the golden lampstand for the tabernacle, which is described in Exodus 25:31-40. In the New Testament, Jesus uses the concept of lamp light several times in his gospel teaching. And Christians will experience the true lamp in heaven.
And the city has no need of sun or moon to shine on it, for the glory of God gives it light, and its lamp is the Lamb. Revelations 21:23
Items in our lives that make us think of love are to be protected and cherished  for they sustain and encourage us. The Bible uses the symbol of the lamp to remind us to love God's light.