It was the perfect day. There was about two inches of snow on the ground. The wind was barely moving. And best of all, my husband did not have to work because school had been cancelled.
I tentatively approached him as I feared he would give a negative response to my request.  He listened, took a deep breath, and said, "You are right. It is a perfect day to burn those piles of timber."
Four years ago we had hired a tree removal company to cut down some gigantic cottonwood trees that were half dead. They were dropping branches that were a foot in diameter into the pond and on its banks. We planned to burn the piles of timber when the right conditions developed.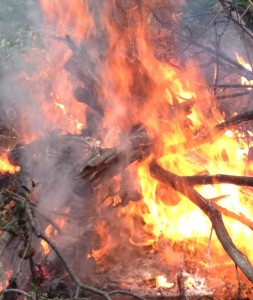 To safely burn the piles, it was essential that we had no wind, which is a rarity in the Kansas prairie, and wet conditions. The humongous brush and log piles were placed beside the pond located in the middle of a hay meadow. Unintentionally creating a prairie wild fire was a real concern unless conditions were perfect.
The brush pile caught fire rapidly. However, the log pile was a challenge. Using batches of old hay sprayed with lighter fluid eventually worked. The bark on the logs caught and soon a scorching hot fire was consuming the logs.
As the fire burned down, I was reminded that sometimes I get impatient waiting for God's timing. I want to barge ahead with a task or activity even if he is telling me to slow down—to wait. When I go ahead in my power, often frustration hits and disaster results.  Oh that I can learn to always wait for God's perfect day.
"Instead you ought to say, "If the Lord wills, we will live and do this or that."  James 4:15