We all experience disappointment.  Sometimes it is trivial, but sometimes the disappointment is painful. What causes you disappointment?
Here is my list:
Not being invited to a luncheon
A friend no longer calls
Not getting a job I wanted
My husband forgets my birthday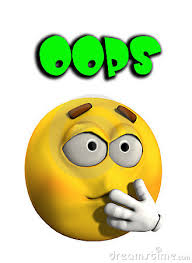 The list could be longer, but I my listing stopped when I realized that the most difficult area of disappointment in my life is me.  I become frustrated with myself for the following:
Being late
Not keeping a promise I intended to keep
Forgetting an appointment or someone's special event
Becoming impatient with another person
Not living up to my expectations
Thinking about disappointment can be depressing unless we realize it is okay to recognize our feelings. It is what we do with our feelings of disappointment that counts. We are to be forgiving toward others. But what about forgiving ourselves?
It is harder to forgive self than to forgive others. However, it is important to forgive self. God did not say forgive others and continue beating yourself up. We are expected to correct our behaviors using the power of the Holy Spirit to create new habits or to make restitution. But if God forgives our sins, it is extremely arrogant for us to refuse to forgive ourselves.
Put on then, as God's chosen ones, holy and beloved, compassionate hearts, kindness, humility, meekness, and patience, bearing with one another and, if one has a complaint against another, forgiving each other; as the Lord has forgiven you, so you also must forgive. Colossians 3:12-13