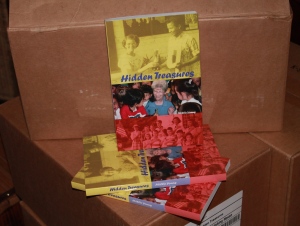 So much excitement! Seeing a book you spent many hours writing in hardcopy is … well it is … I do not know how to express the emotion. Millie and I have worked for months preparing the stories and compiling all the information needed. We sent it to the editor and haven't looked at it for what seems like ages. Waiting for others to do their part was our role. Patience was required.
It takes time to get a book in print. Lori McFall at One Mission Society (OMS) carefully edited the book and formatted it for printing. Foster Pilcher inserted the photographs and designed the cover. Susan Loobie oversaw the preparation. When all was completed, it went to the printer.
With excited hearts, Millie and I traveled to OMS Headquarters last Wednesday. We presented "teaser" speeches at a chapel and sold over 200 books that morning. In the afternoon, I loaded my car with boxes of books, and we headed back to Kansas with joyful, thankful hearts.
Millie and I are available to speak to groups and sign books. If you are responsible for securing a program speaker, contact me. Use my email address of sandee@sandee.lee.com
Contacting me through email is one way you can order a book. Also books may be purchased through Amazon. Here is the link. http://www.amazon.com/Hidden-Treasures-Milllie-Young/dp/1880338505/ref=sr_1_1?s=books&ie=UTF8&qid=1414698678&sr=1-1&keywords=Hidden+Treasures+One+Mission+Society
We pray you will find the book inspiring and encouraging in your walk with our Lord. Let us know how Millie's story affects you. I know it has had a profound affect on me.