My mother-in-law's birthday was only a couple of weeks away. As to what to give her, I was clueless. She was an invalid. What do you buy such a person for a birthday present to make them feel special? Clothes were too utilitarian. Most of the gift ideas I had used in the past were useless stuff at this point.
During one long night sitting in the recliner monitoring her as she slept, I was thumbing through a catalog. There it was. A darling stuffed duck. She loved things like that. Just maybe she could find pleasure in holding it or looking at it. Best of all, it would sing a song when the battery was installed.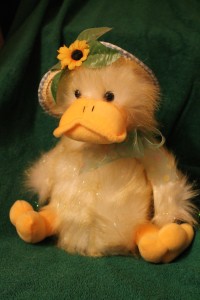 At her birthday celebration, my mother-in-law smiled as we pulled the duck from the gift sack. But when the duck's hand was squeezed, her eyes lit up. She sat up straight, threw her head back and started moving her head back and forth the to rhythm of the music. Each time the duck sang, "You are my sunshine," she sang too. Everyone laughed. And she laughed.
From that time on, whenever she saw the duck, she'd motion for us to start it singing. As she sang, my mother-in-law would look at her family with a gleam in her eye. She loved us.
Love bears all things, believes all things, hopes all things, endures all things.… So now faith, hope, and love abide, these three; but the greatest of these is love . 1 Corinthians 13:7, 13