When I was seven years old, my brother and I received the most wonderful Christmas gifts. We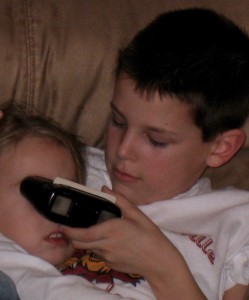 each were given a Stori-viewer and a set of full-color picture story cards. These were not just ordinary picture cards. They were 3-D when displayed in the Stori-viewer. The pictures were intricately detailed scenes depicting the facts of Jesus' birth as written in Luke 2:1-20. The sharing of these cards has developed into a family Christmas tradition.
In our family, the Stori-viewer ritual takes place before gifts are opened. Each person finds a place to sit in a circle which forms in the living room. The tradition starts when the senior male family member reads the verse on the first card. For many years Daddy was the one overseeing this event. He read the card, inserted it into the Stori-viewer, and passed it to the person sitting next to him. That person looked and passed it to the next person. Once the first Stori-viewer traveled about halfway around the room, Daddy would read the next card and start the second Stori-viewer. As the Stori-viewer made its way around the room, each family member viewed the scene.  Even babies were given looks.
This year half the family will be celebrating Christmas in Oklahoma and half in Kansas due to some health issues. The Christmas story cards and the Stori-viewers will travel to both celebrations. It is the tradition that binds the family together.
Why is it important to have such a family tradition?
First, it keeps the family focused on the real reason for the celebration of Christmas—the birth of Jesus.

Second, it provides an expected structure to the family celebration. The chaos of chatter and play stops. The family focuses on being a unit doing one quiet thing together. It creates a strong family unit.

Third, for a few minutes in a day full of gifts and gluttonous eating, family members focus on something other than themselves.
Do you have a similar tradition in your family? What can you do to start one?
For unto you is born this day in the city of David a Savior, who is Christ the Lord. Luke 2:11