"Put those raw peanuts in the shopping cart," my eighty-nine-year-old mother said.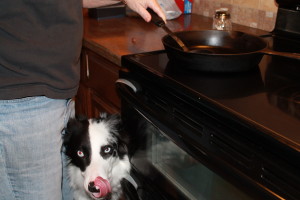 "What do you plan to do with these?" I said.
"Make peanut brittle for Christmas, of course," she curtly responded.
After a moment of thought, I cautiously suggested that I would make the peanut brittle under her excellent supervision. Mom was not happy about my plan, but she agreed. She loves making peanut brittle, but she could not argue with my concern for her ability to handle an iron skillet of extremely hot candy.
The next day Mom pulled her walker up close to the stove. She alternately stood and sat as she told me exactly what to do until the candy syrup was ready for the next step. Finally, she said the  candy was ready for the last two ingredients to be added. Within a minute, I would be pouring the finished peanut brittle on the pans I had prepared where it would cool.
Mom started to move out of the area so I would have plenty of room to pour out the hot candy. As soon as her back was turned, I said, "Do you have to stick your nose into everything?"
"Well, excuse me," was her immediate response. I laughed which did not help the situation. I had been talking to my dog—not to Mom. As soon as Mom had walked away from the stove, my dog slid his body between the stove and me.
Sometimes what we say results in hurt feelings that we did not intend because the context of our words was misunderstood. As we communicate, we need to check to make sure the hearers understand our meaning. Cues from body language, facial expressions, or the person's response must be taken seriously and corrected before the problem becomes a deep hurt when a negative was not intended.
I apologized to Mom and explained I was talking to the dog. She laughed.
If possible, so far as it depends on you, live peaceably with all. Romans 12:18